Address
999 Canada Place
Vancouver BC V6C 3B5
Canada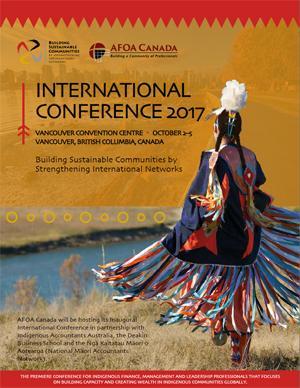 Join us at the FMB Pre-Conference Workshop at AFOA 2017 International Conference!
Date: Oct. 02, 2017
Time: 8:00 AM – 4:30 PM
Location: Pan Pacific Hotel, 999 Canada Place, #300, Vancouver, BC, V6C 3B5
Registration is OPEN!
FMB Sponsorship:
The FMB will sponsor one (1) representative per First Nation with an approved Financial Administration Law to participate in a full day Pre-Conference Workshop on Oct. 2, 2017 (value of $520), including the following:

Registration fee for the full day Pre-Conference Workshop on Oct. 2, 2017
Continental breakfast, refreshments and lunch on Oct. 2, 2017

Requests for additional representatives will be compiled on a waiting list which will open on Sep. 18 on first-come-first-serve basis
Note: If you wish to attend the entire AFOA Conference on Oct. 3-5, please arrange through AFOA directly. FMB's sponsorship covers the Oct. 2 Pre-Conference workshop registration fee only.
The Pre-Conference Workshop will focus on:
Integrated Planning for Future Investments
Integrated planning creates a shared roadmap for a Nation to establish priorities and link them to operations and spending. Integrated planning involves a Comprehensive Community Plan (CCP); strategic plan ; capital project plans; multiyear financial plan; work plans; annual reports; and a risk management plan.
In this Integrated Planning workshop, we will go through the entire integrated planning process and then focus on multiyear financial planning. We will walk through the creation of a multi-year financial plan as well as work in teams on a case study.
Integrated planning can bring rise to conflicts of interest when it comes to decision-making. A conflict of interest is a situation where a person may be involved in activities that could negatively affect their ability to make an independent, unbiased decision. Understanding and managing conflicts of interest is an important element of planning and good governance .
The integrated planning workshop will include a short session on conflicts of interest that involves role playing and mock Council meetings that will support Nations in assessing and managing conflicts of interest as they work to achieve their strategic goals.