Working for a better future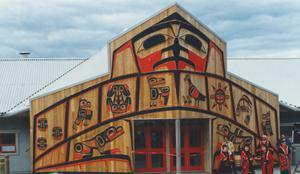 Gitsegukla transformed its future by working with the First Nations Financial Management Board (FMB) to put in place good governance and finance practices and by joining the First Nations Major Projects Coalition, which is a group of First Nations who share information and learn from each other's experiences with regards to major projects.
The challenge
When Gitsegukla First Nation went into third party management, they found they had a deficit of $5.3 million, mainly because of the lack of accountability within their finance system.
In addition, the silos that existed within the Nation's leadership prevented real change and made decision-making more difficult, especially as personalities often clashed in Council meetings.
The action
After Chief Willie Blackwater was elected in 2015, he decided to change things. He wanted to break down the silos and create decision-making processes that relied less on personalities with different opinions of how things should be done, and more on set rules that everyone agreed on.
"One of the key things I did as a Chief was spoke to a First Nations Financial Manager," says Chief Blackwater. "I told them we've been in this situation for 15-plus years and we need to get out and stay out."
The Nation took two concrete steps to change things for the better. It began working with the FMB to put in place good governance and finance practices and it joined the First Nations Major Projects Coalition, which supports First Nations to share experiences and expertise on participating in major projects.
The FMB's Default Management Prevention Pilot Project (DMPPP) provides a pathway for Nations, such as Gitsegukla, to get out of third party management by supporting them to make more informed decisions and create a roadmap for community prosperity. Through the DMPPP, each Nation has access to a dedicated FMB resource and more in-depth capacity development support services.
The FMB and the Major Projects Coalition have been immensely supportive in getting us, as a community, to where we're at today—not financially but through resources, some of the key essential foundations that we learned and implemented are accountability, respect, transparency, inclusion, and teamwork. — Chief Willie Blackwater
The outcome
With the support of the FMB and the Major Projects Coalition, the Nation's team is creating new policies to manage human resource, employment, housing, and finance.
"Those are the things that are key and essential to good management and good leadership," says Chief Blackwater.
Things in the Nation are improving. They replaced the heating system in the elementary school at a cost of over $2 million, and are now in the third phase of updating and repairing the housing for members. The sewage plant was also completely overhauled, and other infrastructure projects have been completed or are in progress.
All of this is thanks to the Nation strengthening confidence members and potential partners and investors have in the community to manage its own finances smoothly.