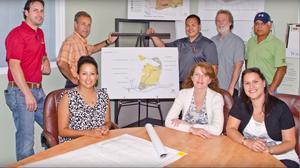 A Finance Administration Law (FAL) is a long-term commitment. Bringing it to life takes tools, training, and other support to make sure you do things as it is written in your FAL. We usually work with our clients over a period of two to three years to achieve one or all of these goals:
Use good governance and finance practices.
Be eligible to borrow money through the FNFA.
Show that your First Nation is running smoothly and working to achieve its long term goals.
During this period we can provide you with skills and tools to support you in achieving your goals. We work with your timetable and provide support based on your needs. Our services come at no cost to your First Nation.
Step 1: Enact your FAL
In order to work with us to bring your FAL to life, you must have enacted your FAL and had it approved by the FMB.
Step 2: Be clear about your goals
Some of our First Nations clients want to be able to borrow money through the FNFA more than once. If this is one of your goals, your First Nation will need to achieve Financial Management System Certification, which can happen after bringing your FAL to life.
Step 3: Choose your team
To help things run smoothly, find someone to be the main contact for the FAL process. This could be the Finance Manager, General Manager, or a consultant working with your First Nation.
It is also a good idea to seek legal counsel and inform the auditor at this stage to make sure everyone is clear about the commitments being made.
Step 4: Assess where your First Nation is now
This is the first step toward bringing your FAL to life.
We work with you to build a clear picture of where your First Nation is now. Together, we look at what you have agreed to in your FAL and how ready you are to bring it to life.
This "Initial Readiness Assessment" allows us to learn about what's important to your First Nation, your priorities, and build a work plan to support your First Nation get to where it wants to be.
Step 5: Create a work plan
The FMB will assign a manager to work with your team to build a work plan.
The plan will focus on the key governance and finance practice areas that need to be set up or improved.
Your work plan includes the training, tools, and workshops that will be most useful to support you to meet your goals and bring your FAL to life.
Step 6: Draft your finance and governance policies
To bring the finance and governance practices in your FAL to life, you need to develop policies that guide Chief and Council and staff in their work for your First Nation.
You can choose to change your existing policies, or adopt and change FMB sample policies, or combine both approaches.
All policies go through one or more rounds of informal FMB reviewing and feedback until they are ready for formal review and approval by Chief and Council.
Chief and Council approve all policy changes.
The FMB tests the policies to make sure they are in line with your First Nation's FAL and the FMB's Standards .
Step 7: Live by your FAL
Once all policies are approved by your Council, the final step is to live by your FAL. By following all of your policies, staff, Council, committees and consultants can use them in their work for your First Nation.
Once all policies are being followed, the FMB then completes a "Final Readiness Assessment" with your team, so that we can help you work on any last items.
After the "Final Readiness Assessment", the FMB can recommend your First Nation for on-site testing to see how well your governance and finance practices are working.
What happens next?
If you are bringing your FAL to life, the first step is to contact a Capacity Development Manager to access our tools and templates including sample policies.